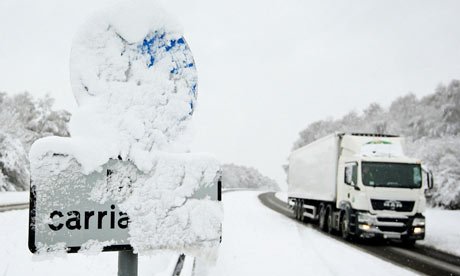 The roads were empty. Everyone was settled with family. Everyone except Mr Finch who had to get to Aberdeen before the next snow fell. He held his cheese and tomato sandwich in one hand and the steering wheel in the other. God this road was winding. Every time he reached a bend he hammered on the brakes, sending cages rattling in the trailer. Then he'd steer with a sandwich filled hand and grope for the gears in the other.
He hated this shift on Christmas Day but since Mrs Finch and the kids had run off with the plumber, he preferred his lorry's warm cab than watching TV with a bottle of whiskey by himself. His cab was dirty – a pot to piss in, a coffee flask, but it was no worse than any other he'd seen. And it would be dark soon.
"Time to put your foot down laddie!"
Christmasses had been very happy occasions in the past. He'd do the turkey. Mrs Finch would do the vegetables. The kids were young enough to be gullible. He always had a private chuckle when the mince pies had mysteriously gone in the morning. Oh those kids with their mouths agape.
Then Emily turned 8 and she lost faith.
"Santa's NOT REAL! He's really fat and he can't fit down our chimney!" Then little Dave started crying and the game was up. It was time to come clean.
"Bastards!"
He slammed the door on the cab. Nobody was answering the gate and whoever was on duty must have pulled a sickie.
With his arms raised in despair and anger he turned the radio up loud.
"Smoother than melting butter. Smoother than blueberry yogurt. Smoother than a baby's bottom…. This is Smooth's Jazz Hour"
A slow rendition of Frosty the Snowman glided away. He sighed loudly, slinking into his chair. He couldn't fight the feeling any more. The empty, hollow sadness soaked through him and engulfed his soul. The tears bled and he started to shake. He could only stand so much, he wiped his wet face with the florescent jacket and cranked the gears into reverse.
In the layby in the unusual quiet he slept peacefully. And when he awoke the truck was surrounded in carpets of snow.